CARS
Standardsystems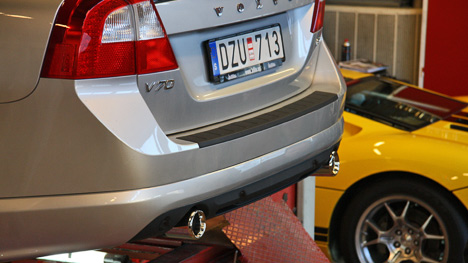 Ferrita´s stainless steel exhaust systems are available for most car models, primarily for cars equipped with catalytic converters, these are represented in the standard range found here in our online store.
Sport-, racing- and special cars
Ferrita´s exhaust systems can be adapted to enhance the effect which many racing drivers and car owners highly value. These systems are built for optimal performance where the noise levels are adjusted to reflect this.
Motorsport
Ferrita has been involved in motorsports a long time, where the requirements are strict when it comes to power, weight, and not the least noise. In racing our exhaust systems are used in Camaro Cup, Clio Cup and Radical. We are also proud that multiple winners Kenneth Hansen, Per Eklund and Mats Jonsson are using our exhaust systems.
Vintage Cars
A vintage car will last a lifetime, as well as an exhaust system from Ferrita. They have high finish and corresponds to the beauty of well preserved vintage cars. Therefore, many classic car owners invest in our system.
Special Manufacturing
Models that are not in range can be customized, which is done on site directly at the factory in Köping or at special partners in the following Swedish cities:
GÖTEBORGHÖGLUND MOTORSPORT AB, Karlsbogårdsgatan 7C, 425 37 Hisings Kärra. Tel. 031-3896969
HELSINGBORG:VÄSTRA BERGA ROSTSKYDDSHALL, Diabasgatan 11, 254 68 Helsingborg. Tel. 042-157580
KÖPING:FERRITA SWEDEN AB, Mästaregatan 10, 731 50 Köping. Tel. 0221-18070
STOCKHOLM:AVGASSYSTEMET I STOCKHOLM AB, Fågelsångsvägen 22, 186 42 Vallentuna. Tel. 08-288928
VÄSTERVIK:VÄSTERVIKS BIL AB / MEKONOMEN, Allén 80, 593 61 Västervik. Tel. 0490-15151